Careers
Are you passionate about caring for others?
JOB LISTINGS
Horizons engages in continuous active recruitment of the following roles:
Direct Support Professional
LPN
RN
Housekeeping
"KINDNESS IS PRICELESS"
Join us for the opportunity of a lifetime!
"Where every day is an opportunity to be kind for the sake of being kind"
"Where every day is the opportunity to be better than we were yesterday"
"Where every day is an opportunity to make a positive difference in the lives of people we support."
Our employee family covers three shifts, including weekend duties in teaching, physical therapy, speech/language therapy, recreation, creative arts, nursing and healthcare, housekeeping, laundry, food services. Maintenance, fundraising, business and administration and as a qualified professional.
Don't have experience in the field of Intellectual Developmental Disabilities? Horizons offers comprehensive training for all new staff members, including on the job training, specific to your role and responsibilities. Additionally all staff members are encouraged to engage in our employer sponsored career development opportunities.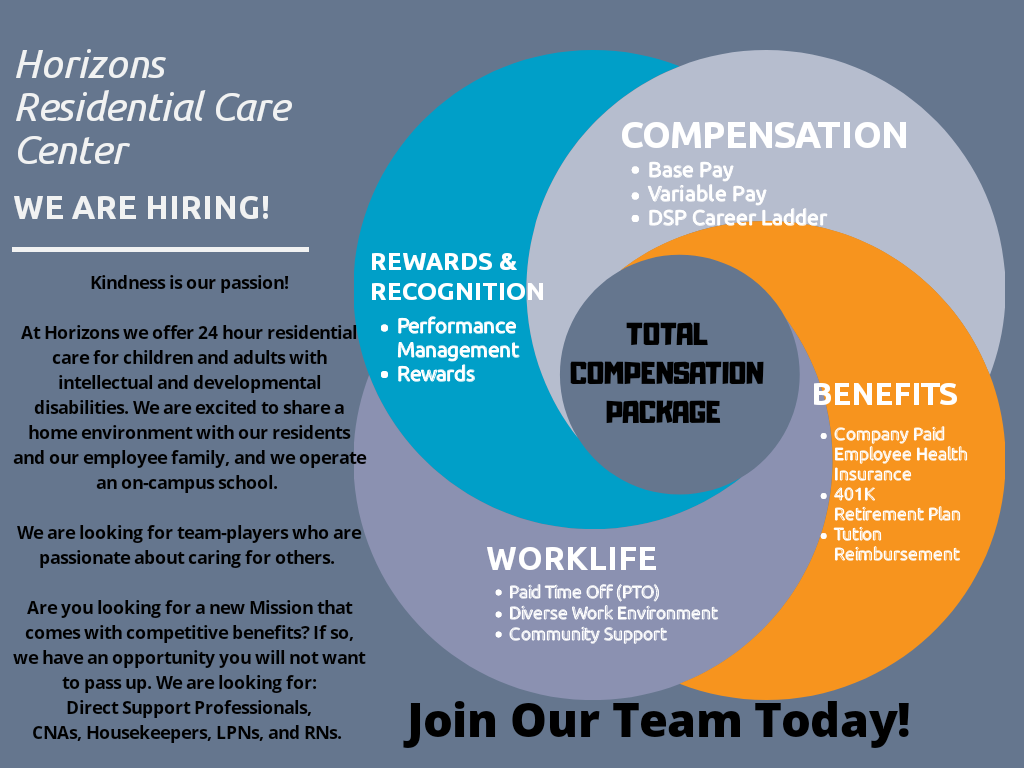 BENEFITS
Horizons provides a wide range of employee benefits including medical, dental, and vision insurance, life insurance and short and long-term disability insurance, Paid Time Off (PTO), optional voluntary benefits, Flexible Spending Account (FSA), and an optional 401(K) Retirement Plan.
Horizons is an Equal Opportunity Employer committed to offering its employees a drug-free and tobacco-free workplace. All applicants are required to submit to a drug screening test as a condition of employment. Offers of employment are subject to vary based on the applicant's qualifications.